A timeless SUV with Best-in-Class features including a towing capacity of up to 2,041 kg (4,500 lb) has certainly given the 2015 Jeep Cherokee an edge over the competition.This is the rough and ready SUV with power to brag about and durability to get it over the next hill.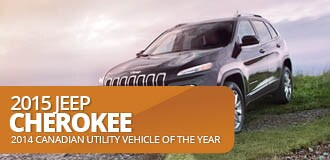 Vehicle Highlights


Standard 184 and available 271 horsepower
Real 4x4 capability: electronic transfer case shift
Class-exclusive 9 speed automatic
Concealed cargo storage for in-town security
3 Jeep 4x4 systems




With two powerful engine options to choose from and an arsenal of capability features to make traveling the rougher terrain easier than ever, the 2015 Jeep Cherokee is a head-turner whether you're on the road or exploring the beaten-trails.
Fierce in appearance, durable in design, and more-than-capable in its performance, the 2015 Jeep Cherokee is ready to show off with Best-in-Class Capability with Cherokee Trailhawk® and the standard Trail Rated® Jeep Active Drive Lock 4x4 system with 4-Low and rear locker.

The Escape is a finely tuned line of vehicles that showcases Ford's innovative design keys without pushing the boundaries in order to provide a sensible drive without the advanced features that make it stand out of a crowd.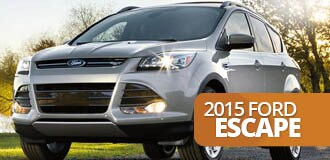 Vehicle Highlights


2 engine options - the 1.6L or the 2.0L EcoBoost® Engines
Front-wheel drive
Optional Intelligent 4WD System
173hp 1.6L completely adequate for city driving
Hands-free, Foot-Activated Liftgate


The highlights on the 2015 Ford Escape make it a good SUV for those who are prepared to spend most of their time on the road and aren't looking for a hardier vehicle that can handle rougher conditions.
At its core the Ford Escape is a reliable, well-thought-out vehicle that has enough of what modern drivers want. However, when you realize that many of the vehicle's qualities are aesthetic rather than practical, the illusion of off-roading fades and the shortcomings become more apparent. In the end, the Ford Escape hint at its adventurous side, but the fact of the matter is the features simply don't live up to the hype.


With some interesting highlights, the Ford Escape is certainly good at keeping with the status quo it has set but, unfortunately doesn't do enough to make a lasting impression for drivers who like to get out and make a real impression on the world.
The 2015 Cherokee, in contrast, has done what Jeep is known for - and explored new ideas, tested new technologies, and arrived at a well-designed and capable 2015 model ready to go wherever you have in mind. Note the fuel economy on this year's model, too, and it's not hard to see why the Cherokee is a name that is trusted and adored across Canada.
Where to find your Jeep Cherokee
At Marine Chrysler we look forward to assisting you in your next vehicle purchase. With a reputation for solid advice since opening in 1993, we are proud to hold an A+ rating from the Better Business Bureau. Our commitment to delivering excellent customer service is unparalleled and with 20,000+ transactions last year alone, we know we have the expertise to help you with whatever assistance you may need.
Find your Jeep Cherokee or 2015 Ford Ecape in Vancouver, BC today. Whether you call, email, or stop by our dealership today to talk with our experts you'll learn for yourself that Marine Chrysler is right for you.