Fiat of Vancouver
1620 Main St, 
Vancouver, BC, Canada V6A 2W8
Phone:
(604) 681-1491 
Fax:
(604) 681-1492

Fiat of Vancouver Service Department
Our incredible FIAT service and repair center is here to keep your new or used FIAT running as efficiently as possible. The occasional visit to our car service and repair center in Vancouver will keep you on the road year-round, as we pride ourselves on knowing your vehicle inside and out. Why would you go anywhere else when you can trust your vehicle to the experts that have been serving Burnaby, Surrey, Coquitlam and Richmond for years?
Service & Parts Hours
•
Tuesday 8:00am - 5:00pm
•
Wednesday 8:00am - 5:00pm
•
Thursday 8:00am - 5:00pm
Need an appointment soon? For the fastest service, fill out our contact form online. We'll confirm your appointment as soon as possible, and you won't have to waste your time on hold.
FIAT of Vancouver offers a fully functional service department for all vehicles, regardless of body style or manufacturer. Our technicians are all trained and certified to provide fast, yet thorough, service. We love seeing you at the dealership, but we know that you don't want to come back all the time because it means your car needs work!
Below are some of the services we perform at our dealership. If the service you need isn't listed, or you want more information, just contact us and we will answer all off your questions!
•
Oil change and fluid flush
•
Muffler installing and repair
•
Brake replacement, adjustment, and tuning
•
Tire rotation and balancing
•
Interior and exterior detailing
Schedule Service at Fiat of Vancouver

Fiat of Vancouver Maintenance Schedule
Did you know that having professionally qualified service technicians perform service on a regular basis will save you headaches, time, and money? When you bring your FIAT into the mechanic shop at scheduled intervals it allows our technicians to maintain your car's performance and keep it running smoothly. You won't have any expected breakdowns, expensive full-blown repairs, or worry that your car might not start in the morning. To get started on a maintenance program contact our service department today!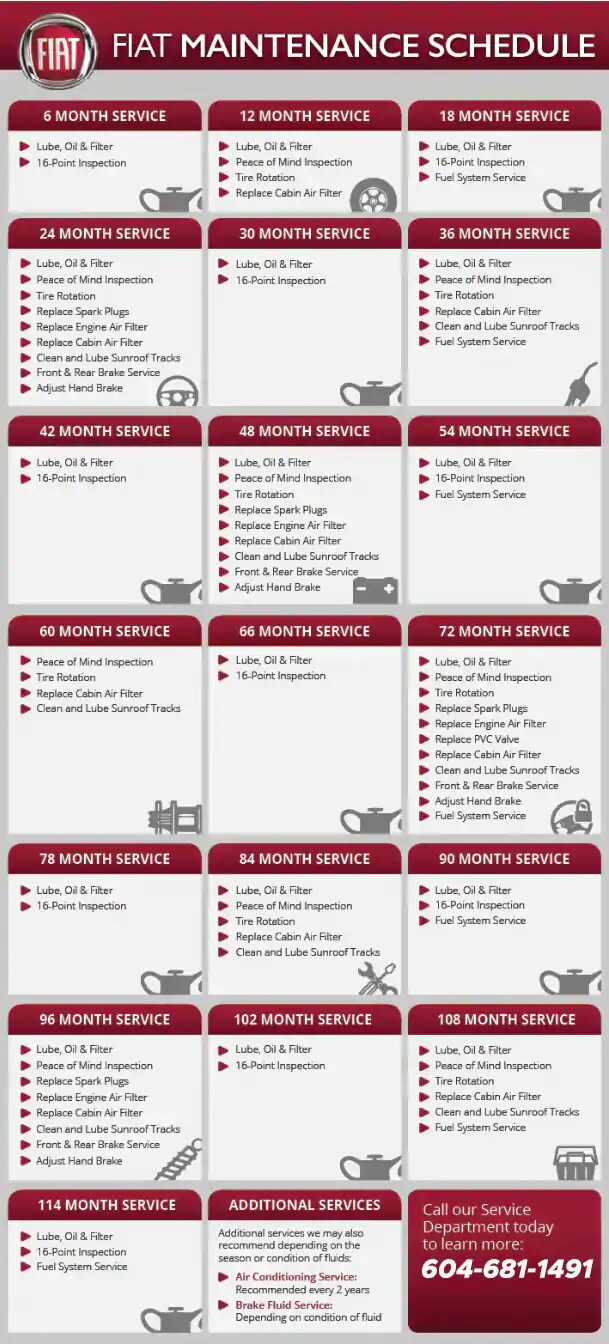 Order Chrysler and FIAT Car Parts in Vancouver
Mopar provides quick, convenient, quality service and authentic OEM parts for your Chrysler, Jeep, Dodge, Ram, FIAT or SRT vehicle. Get your oil changed, your battery replaced or your brakes inspected and have it done in no time. We also offer OEM accessories and performance parts for your vehicle to make sure it's customized to your heart's desire.

Fiat of Vancouver Parts Department
At FIAT of Vancouver we carry a huge variety of quality genuine OEM parts. Our highly trained parts advisers will find you whatever you need. We carry a comprehensive inventory of parts, and if we don't have it in stock, don't worry - we will order it for you immediately. As a dealer our orders come at a priority, so you won't have to wait long! 
If you have questions about our quality genuine OEM Mopar parts, want to order a part from us, or just want to discuss FIAT cars get in touch! Our parts advisors are waiting to answer calls, reply to emails, or take questions at the dealership throughout the day.  
Fiat Parts Request
Vancouver's Best FIAT Dealer
At FIAT of Vancouver we sell more than just new FIAT's, we also sell used cars, used, trucks, used crossovers, used SUV's, and used vehicles of all makes and models. If you need vehicle financing our automotive financing department will help you get a loan - if you have bad credit, don't worry, our finance specialists will match you up with the right financing for your budget.

Staffed with FIAT specialists and highly trained technicians, we are here to provide a comfortable, fun and worry-free automotive shopping and service experience. With hard-work and dedication to our customers, we have become the Number #1 FIAT studio in Canada. See the difference for yourself.
1620 Main St, 
Vancouver, BC, Canada V6A 2W8
Phone: 
(604) 681-1491 
Fax: 
(604) 681-1492