Customer Reviews & Testimonials
Did We Do An Outstanding Job?
Here is some of what our Great Customers are Saying! Trust is the most important intangible component of any transaction - if the vendor and purchaser don't trust each other, then no transaction can be made. In our business it is even more important, as so much of the information and the buying experience that you depend on comes from our sales staff That is why we take customer feedback seriously - it is our mission to make the vehicle purchasing process as transparent and enjoyable as possible.
We encourage all customers to submit a review or testimonial after they have made a purchase with us. Fill out the form on the side of the page with your honest review of our dealership and we will review it as soon as we get it. We look forward to hearing from you!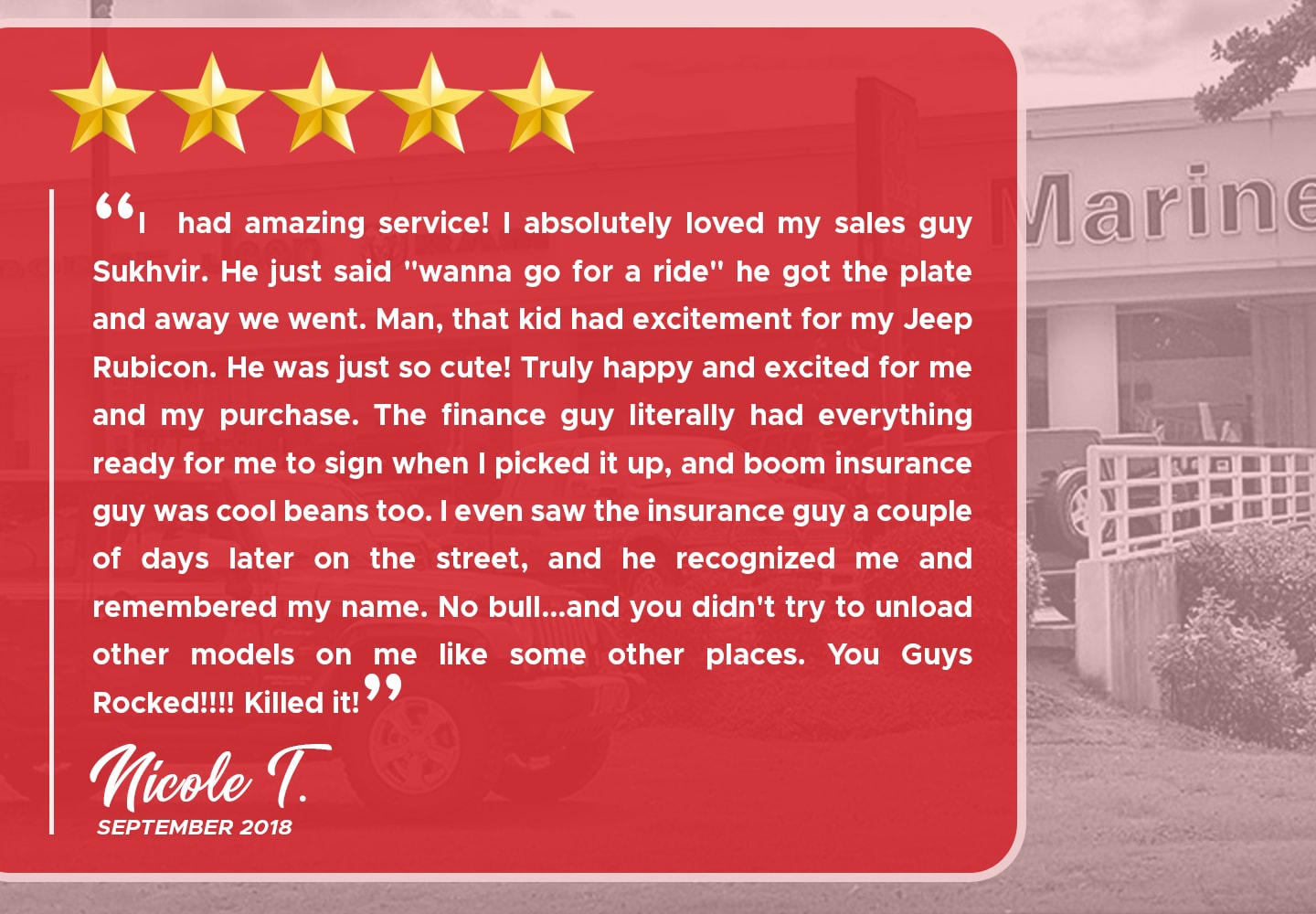 "I had amazing service! I absolutely loved my sales guy 
Sukhvir. He just said "wanna go for a ride" he got the plate and away we went. Man, that kid had excitement for my Jeep Rubicon. He was just so cute! Truly happy and excited for me and my purchase. The finance guy literally had everything ready for me to sign when I picked it up, and boom insurance guy was cool beans too. I even saw the insurance guy a couple of days later on the street, and he recognized me and 
remembered my name. No bull...and you didn't try to unload other models on me like some other places. You Guys Rocked!!!! Killed it!"
Nicole T. 2018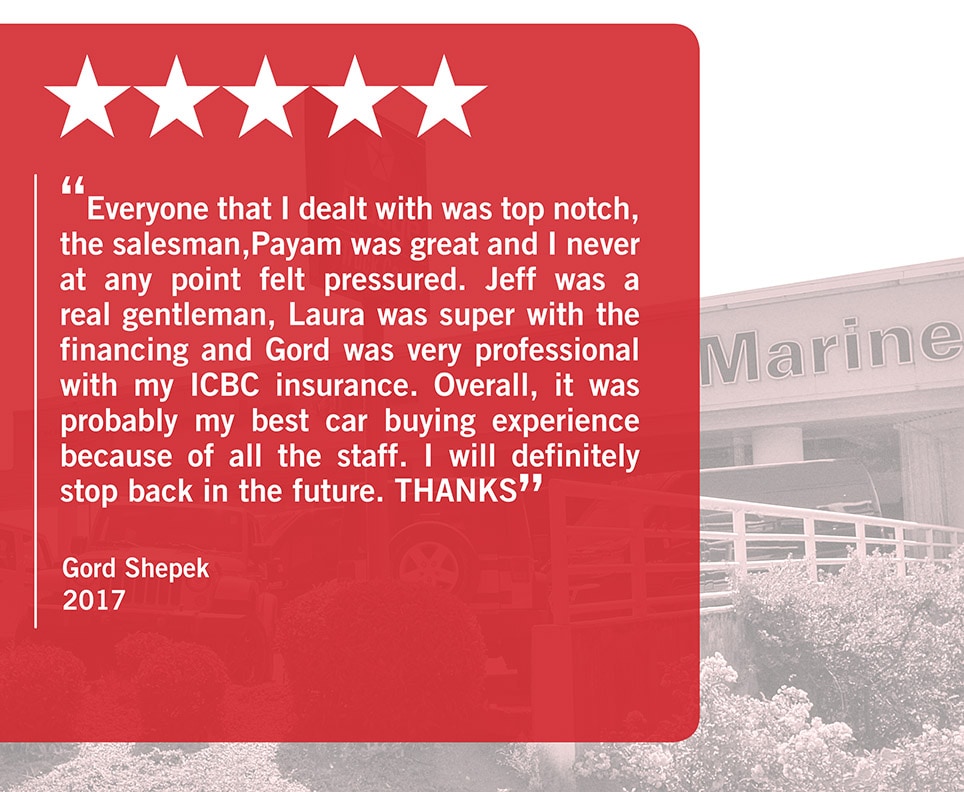 Everyone that I dealt with was top notch, the salesman,Payam was great and I never at any point felt pressured. Jeff was a real gentleman, Laura was super with the financing and Gord was very professional with my ICBC insurance. Overall, it was probably my best car buying experience because of all the staff. I will definitely stop back in the future. THANKS

Gord Shepek 2017

---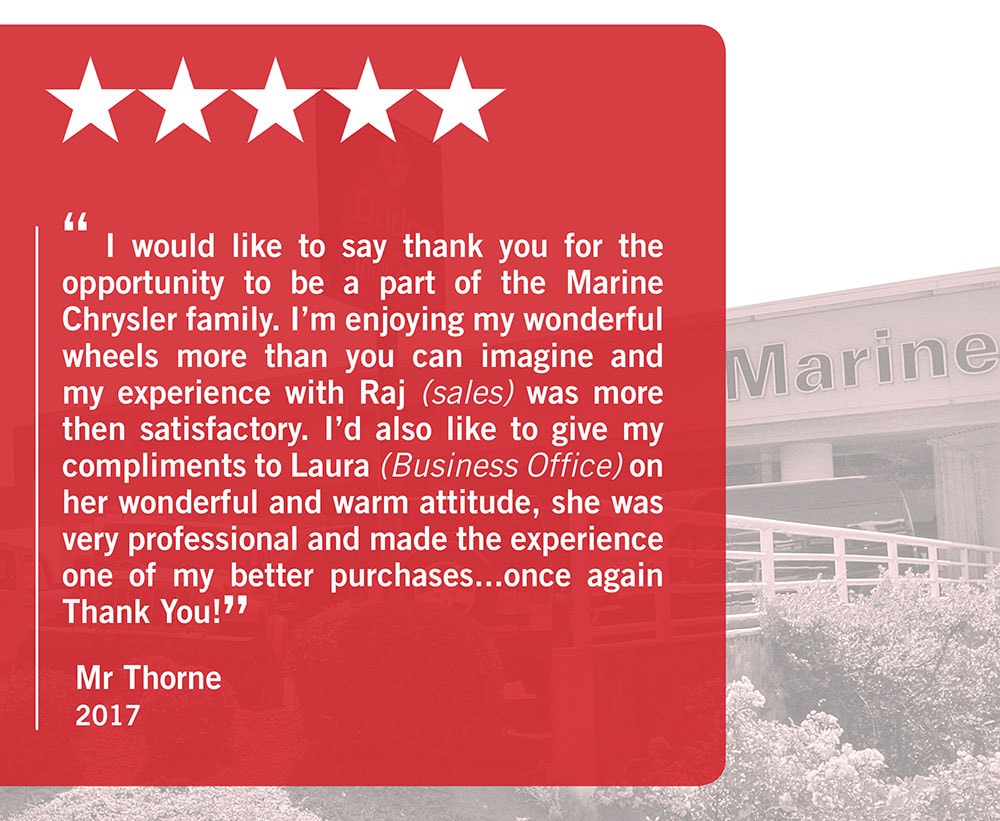 I Would like to say thank you for the opportunity to be a part of the Marine  Chrysler family. I'm enjoying my wonderful wheels more than you can imagine and my experience with Raj (sales) was more then satisfactory. I'd also like to give my compliments to Laura (Business Office) on her wonderful and warm attitude, she was very professional and made the experience one of my better purchases...once again Thank You!
---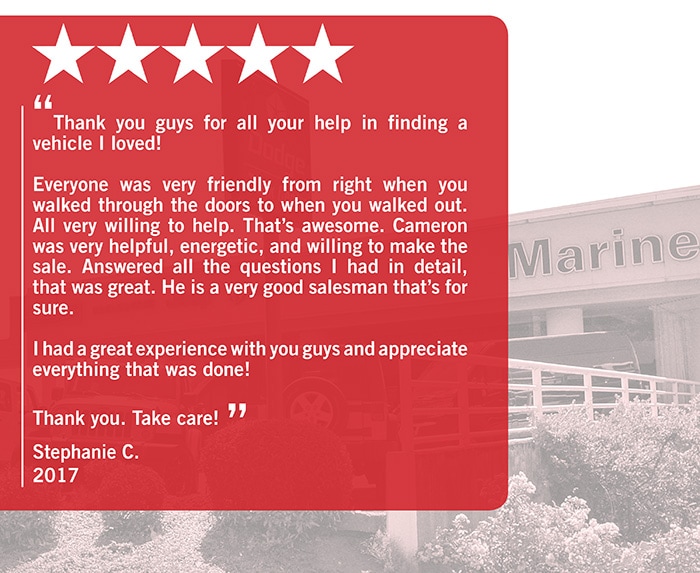 Thank you guys for all your help in finding a vehicle I loved!
Everyone was very friendly from right when you walked through the doors to when you walked out. All very willing to help. That's awesome. Cameron was very helpful, energetic, and willing to make the sale. Answered all the questions I had in detail, that was great. He is a very good salesman that's for sure.I had a great experience with you guys and appreciate everything that was done!
Thank you. Take care!
---
Really appreciated the free loaner, and clean car on pick up - inside and out!
Katherine G
Vancouver, BC
---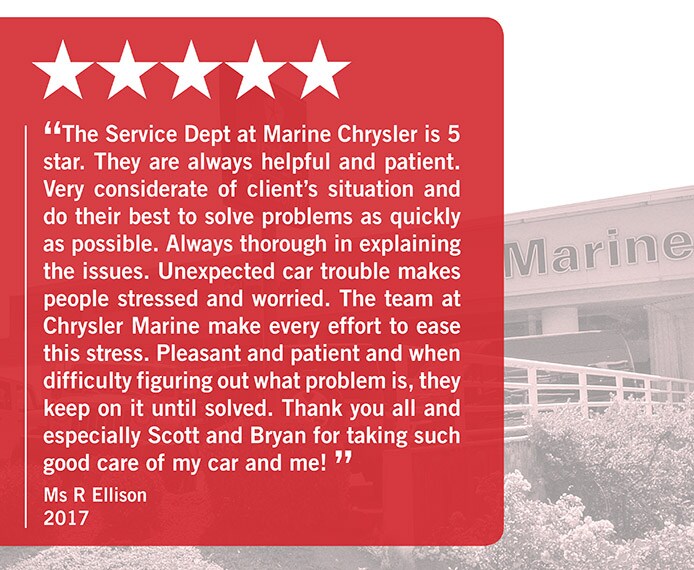 The Service Dept at Marine Chrysler is 5 star. They are always helpful and patient. Very considerate of client's situation and do their best to solve problems as quickly as possible. Always thorough in explaining the issues. Unexpected car trouble makes people stressed and worried. The team at Chrysler Marine make every effort to ease this stress. Pleasant and patient and when difficulty figuring out what problem is, they keep on it until solved. Thank you all and especially Scott and Bryan for taking such good care of my car and me!
Ms R Ellison 2017
---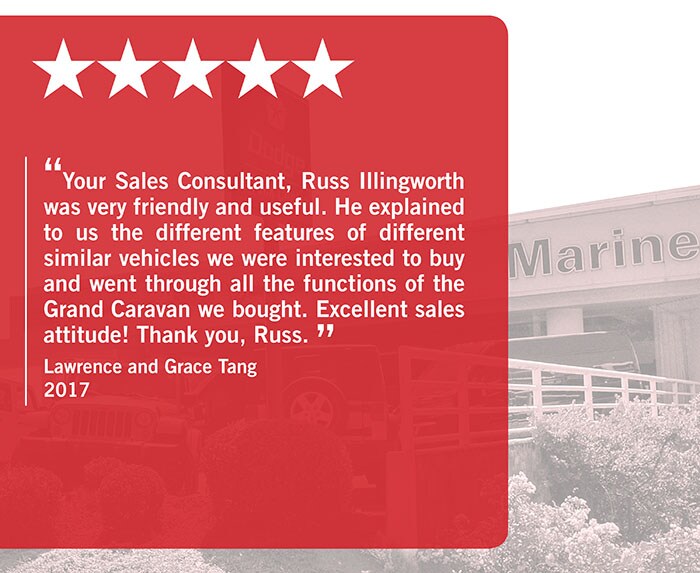 Your Sales Consultant, Russ Illingworth was very friendly and useful. He explained to us the different features of different similar vehicles we were interested to buy and went through all the functions of the Grand Caravan we bought. Excellent sales attitude! Thank you, Russ.
Lawrence and Grace Tang 2017
---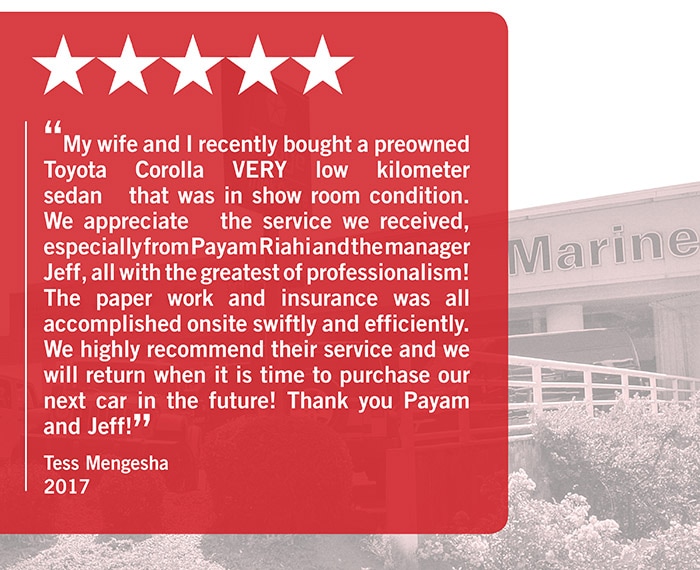 My wife and I recently bought a preowned Toyota Corolla  VERY  low  kilometer  sedan   that was in show room condition. We appreciate   the service we received, especially from Payam Riahi and the manager Jeff, all with the greatest of professionalism! The paper work and insurance was all accomplished onsite swiftly and efficiently. We highly recommend their service and we will return when it is time to purchase our next car in the future! Thank you Payam and Jeff!
Tess Mengesha 2017
---
I was looked after by service department and I have to say he was terrific. I needed to have my vehicle serviced in very little time and he managed to get everything done for me in less than hour!!  Really impressed! 
Gail E New Westminster, BC
---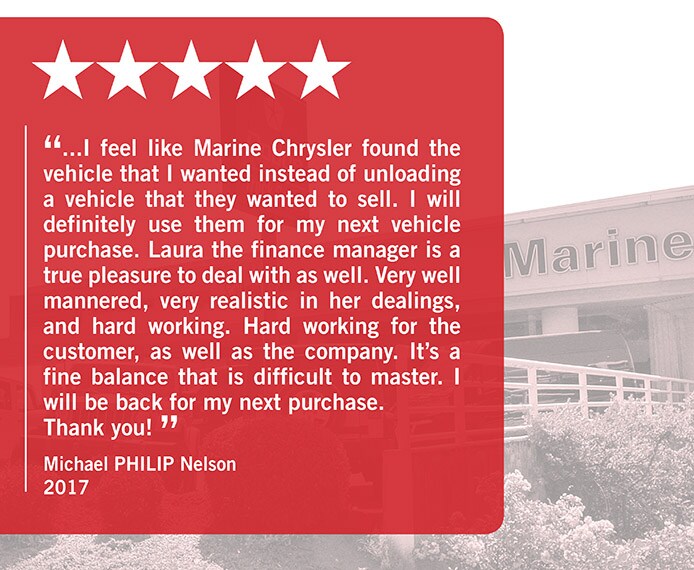 ...I feel like Marine Chrysler found the vehicle that I wanted instead of unloading a vehicle that they wanted to sell. I will definitely use them for my next vehicle purchase. Laura the finance manager is a true pleasure to deal with as well. Very well mannered, very realistic in her dealings, and hard working. Hard working for the customer, as well as the company. It's a fine balance that is difficult to master. I will be back for my next purchase.
Thank you!
Michael Philip Nelson 2017

---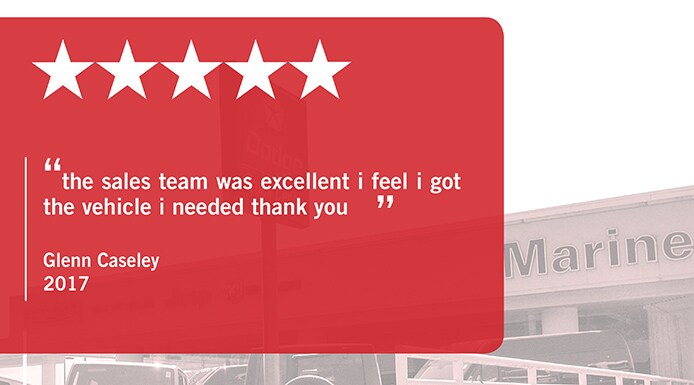 the sales team was excellent I feel I got the vehicle I needed thank you
Glenn Caseley  2017
---
As always very friendly and quick service, keep up the good work! 
Hessel V Vancouver, BC
---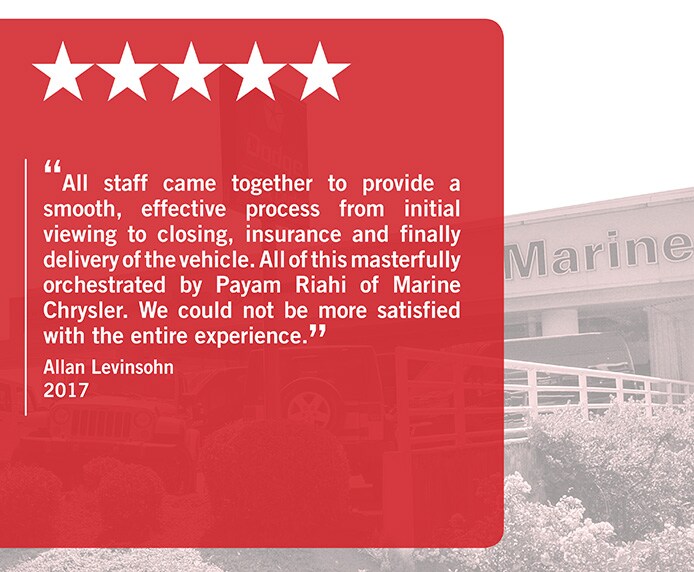 All staff came together to provide a smooth, effective process from initial viewing to closing, insurance and finally delivery of the vehicle. All of this masterfully orchestrated by Payam Riahi of Marine Chrysler. We could not be more satisfied with the entire experience.
---
We found staff to be particularly helpful in finding the answers to our questions about child car seats.
---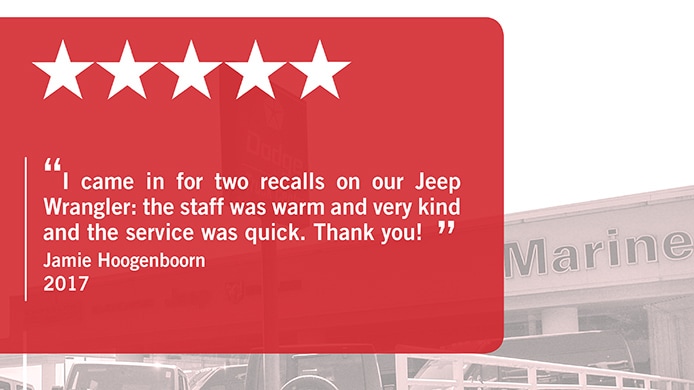 I came in for two recalls on our Jeep Wrangler: the staff was warm and very kind and the service was quick. Thank you! 
Jamie Hoogenboorn 2017
---
Always excellent service and always in good hands with you folks! I know my jeep is well taken care of!
Janette B Vancouver, BC
---